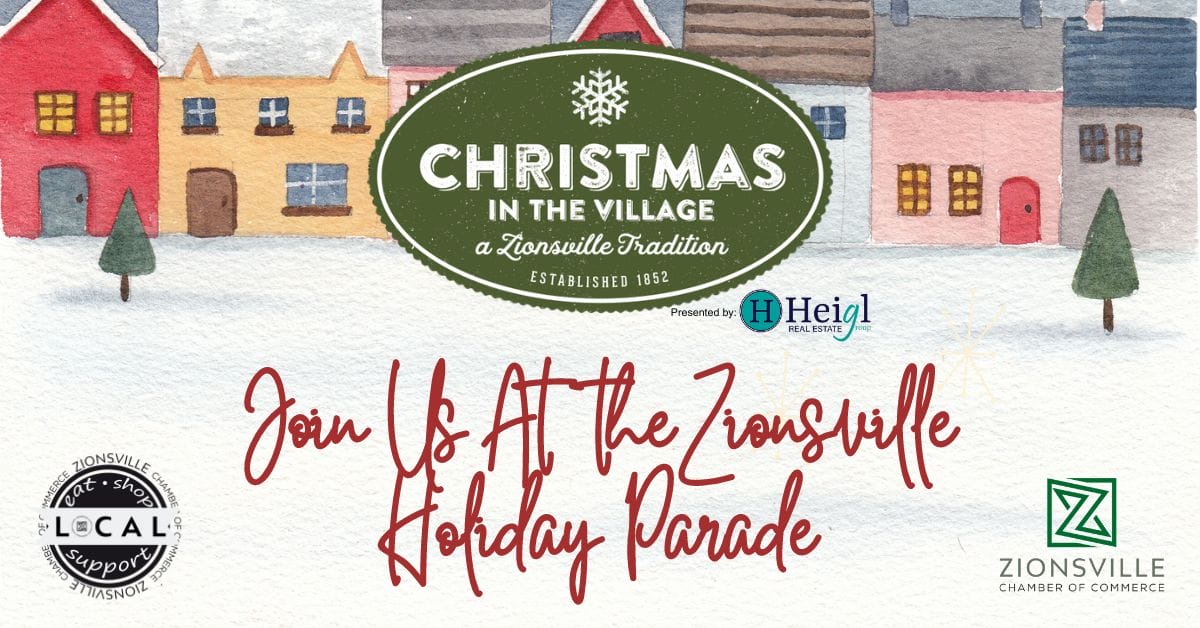 Saturday November 25th 5pm
Christmas in the Village Holiday Parade
This family friendly parade begins at 5:00 PM at Eagle Elementary and ends at Old National Bank at approximately 6:00 PM.
Join us as Santa arrives in Zionsville in style!
Immediately following the parade. Santa and Mrs. Claus will light the tree for the holiday season on the corner of Pine and Main Streets!
HOLIDAY PARADE LINEUP 2023
(subject to change)
Zionsville Police Department
Zionsville Chamber of Commerce
Zionsville Fire Department
Boone County Sheriff
Zionsville Town Council
Ascension St. Vincent
J.L. Anderson Heating & Cooling
Humane Society of Boone County
The Hive Nanny Agency
Reindeer Auto Relocation
Radiant Skin
Central Indiana Dance Ensemble
Stephanie Marzano-State Farm
Harmony Pools
Priority Waste
Zionsville Marching Eagles
Senior Helpers
Hussey-Mayfield Public Library
Paul Davis of Northwest Indianapolis
Mite-E-Ducts
Control Tech
School of Rock-Zionsville
Zionsville Football Team with ZYFL Cheer
Zionsville Swim Club
Witham Health Services
D-BAT Zionsville
Chick fil-A
Miss Boone County-Jacqueline Pratt
Mrs. Indiana Earth-Halle Pouncey
Mrs. Indiana for America Strong-Karissa Jaeckel
Miss Indiana-Cydney Bridges/Miss America Opportunity
Dance Fit Squad
Greeks Pizzeria
Zionsville Rugby Club
Mayor Elect John Stehr with Newly Elected Town Council Members
Mid-West Jewelers
Santa and Mrs. Santa Clause